5 Shower Floor Ideas You May Have Not Known Existed
When you're renovating your bathroom, you want to look for a way to make your shower and bathroom floor stand out. Sure, you could install a boring pre-fabricated base or simple white tile, but who really wants that? There are some amazing shower flooring materials that most people have never heard of.
Here are 5 of the most interesting and distinctive ideas for shower floors that we found on Houzz:
Pebbles
This is exactly what is sounds like – pebbles embedded in grout. This shower flooring option gives the bathroom an organic look that's warm and elegant. And because the pebbles are 100% natural, every stone and every bathroom is distinctive and unique. A possible downside is that the amount of grout can be a challenge for some folks, but the texture of the pebbles provides a non-slip surface that is comfortable, even massaging on the feet. On the other hand, some people, particularly those with sensitive feet, can find the surface a bit uncomfortable. Still, pebble floors are perfect for homeowners who want a style that's distinctive and gorgeous.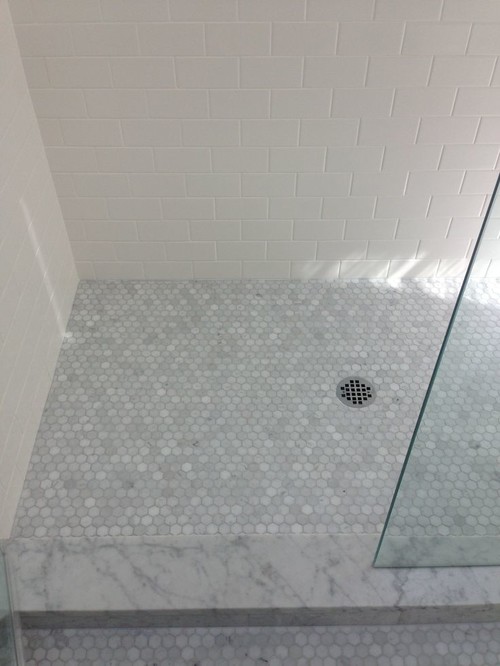 Hexagonal Carrara Marble
Small tiles made from stones that are light brown and white, these shower floor tiles create a clean and professional look. Each tile is cut from natural marble, giving every piece its own styling. Mined in Tuscany, Italy, marble has been used as an elegant building material for thousands of years. Today, marble is often used for high-end hotel bathrooms, and marble tile shower flooring is ideal for nearly any home.
Teak Wood Slats
Teak wood is among the most beautiful woods in the world. Native to southeast Asia and the Indian subcontinent, this hardwood is a prized building material. When used for a shower floor, teak gives your bathroom the warmth and style of a traditional boat deck. Typically designed to have open slats, teak floors are ideal for bathrooms that need a bit of elevation and style. Since it is wood, it can eventually warp, but only if it's neglected and mistreated. Otherwise, it can last for years.
Tumbled Stones
As much a style as it is a specific product, tumbled stone tile creates a wonderfully gentle look for shower floors, and it lasts for decades. Typically made from marble, granite, limestone, quartzite, and other hard stones, these stones are often rectangular and then gently tumbled. This process gives the stones softer edges and a slightly aged look.
Wood
In addition to teak, there are many other hardwoods that are perfect for shower floors. A favorite wood is bamboo. It's 100% renewable and lasts for a long time. No matter which hardwood you like, it's important to choose one that's been treated for the bathroom. Additional layers of shellac and treatments will ensure the flooring lasts for years. Although the coatings on the floors can sometimes make them slippery, this can be mitigated with non-slip grip in the shower (and the right rugs if used for the bathroom floor).
Each of these different shower flooring styles offers an opportunity to create or reinvent your bathroom. Complement or contrast your shower floor with your tile choice and you will have a one-of-a-kind design!
Are you ready to get started on your project?
With affordable pricing and extensive experience in every sector of the construction industry, it's safe to say that we are one of the top names in the industry. We can handle everything from exterior remodeling to interior remodeling, home additions, restoration services, and even insurance remediation. We service both residential and commercial properties throughout New Jersey.